Time to stitch and celebrate
Win £500 and have your design marketed around the world in conjunction with Appletons Wool and the RSN

This competition is open to anyone, professional or amateur.  For more details or to register your interest please fill out this online form.
Design an embroidery/tapestry kit for us to sell using the theme of CELEBRATION and whatever it might mean to you. It could be bunting, a greeting card, a cushion or a picture – or something we haven't even thought of yet! The only requirement is that you only use Appletons Wool, and with 425 shades including our new neon and brights range, that should leave plenty of scope for imagination.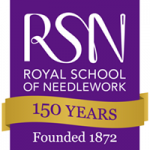 The winner's kit will be marketed around the world under their name and the Appletons brand; it will carry the RSN logo and a percentage of each sale will go to the RSN.
Closing date July 31st 2022
To enter please complete the form on this page.
Our impact on the world – sustainability
All our wool is British from sheep to needle – it comes from the Yorkshire wool markets and is also dyed and spun in Yorkshire. The furthest it travels is from Yorkshire to Buckinghamshire before being shipped to you.
Our packaging is, with the exception of the plastic bags we wrap the hanks in for cleanliness, recyclable and in the case of the outer boxes, almost invariably already on its second or third incarnation. We have disposed of plastic bags for skeins altogether.