Eppie started her business back in the strange days of 2020, after seven years working in London's financial centre. She discovered that her long-time love of stitching was also the greatest antidote to the stress of a job she was no longer enjoying, and this was brought home to her most clearly when she realised just how often she was checking her phone even when at home - if you are stitching, you can't use your hands to fiddle with your phone.
This led her to recognise the extent to which she was relying on stitching for her wellbeing and eventually helped her decide to turn stitching and designing into her job. However, this didn't happen overnight – Eppie planned for 18 months how to establish her business so that it could support her and used those 18 months to save all she could in order to make the transition easier.
Once the business was launched, Eppie discovered a whole new world of stress – deliveries not arriving as scheduled, the inability to make absolutely everything perfect – which led to her having to develop a very different and new skill set to manage a small business. The greatest skill she has learned so far? Resilience. The ability to bounce back when things do not go according to plan. Whether the issues are being let down on a website design, or the lack of a supplier's reliability, Eppie had to manage the issues and outcomes, and has distilled this learning into a pithy: 'Trust yourself a bit more' – which she applied when let down by a website design company, and (very impressively) learned to build her own site.
Eppie is constantly moving forward – this year's plans include a move to a new studio, as well as continuing teaching and helping others with their stitching journey. She is also releasing new tapestry designs later this year.
Visit her at www.thefabledthread.com to explore some of her beautiful designs.
The Elephants Child (original)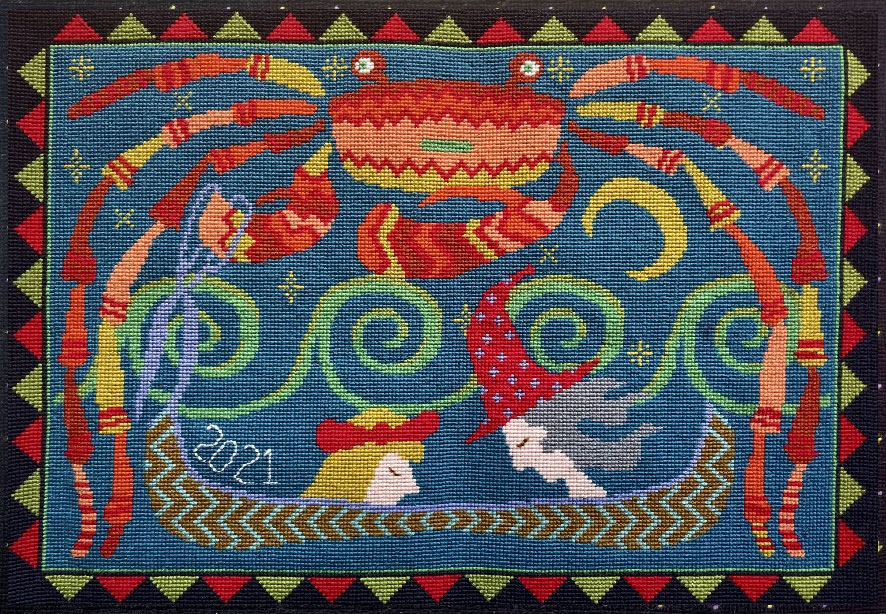 The Crab Who Played with the Sea (alternative)